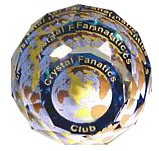 Welcome to the Crystal Fanatics Club! For Collectors of Swarovski Crystal!
Packed with more information than ever and with far more powerful tools, you'll love being a Member of the Crystal Fanatics Club.You'll either find some of your OLD FRIENDS here, or be able to make NEW FRIENDS who share your interests. We are a friendly, caring and eclectic mixture of people from all over the world!
Most of the links you see to the left hint at some of the great things waiting for you once you become a member. The links lead to the member's only area which you will only be able to access once you've completed your membership application. Then you, like all our other members, will be able to enjoy all of the benefits of membership offered by The Crystal Fanatics Club!
CFC Benefits of Membership:
MOST OFTEN FIRST with Breaking Swarovski NEWS!
Live CFC Chats Every Wednesday evening in our VERY OWN Integrated CFC Chat Room! Join some serious fanatics live for a Sunday Morning chat also
Not ONE, but FIVE MESSAGE Boards! These are 2 of the most popular boards:
CFC Daily Message Board where members conduct most of our interaction. Post your message, respond to messages from others, gossip, share,ask a question, learn!
CFC Buy/Sell/Trade Board is where the hot action is for collectors like you! This is where we exchange, trade, buy and sell Swarovski between club members only.
CFC Photo Gallery There are currently MORE THAN 11,000 Photos in our 68 albums! No other club site features so many Photos! Featuring ALL the info you need to know about each Swarovski issue displayed in full color, a complete description is posted to each Photo in the Gallery, including ALL the Current Values for Retired Swarovski Crystal.
FREE with your Membership!


003-0004418
Centenary Swan Brooch
Multi-colored - Ltd Ed.
Designer: Team
Size: 2 inches / 50mm high
Offered only to SCS members in 1995 in celebration of Swarovski's 100th anniversary
Logo: Swan with SCS
Issued: 1995 / Retired 1995
MRP: $125
2010 CV: $68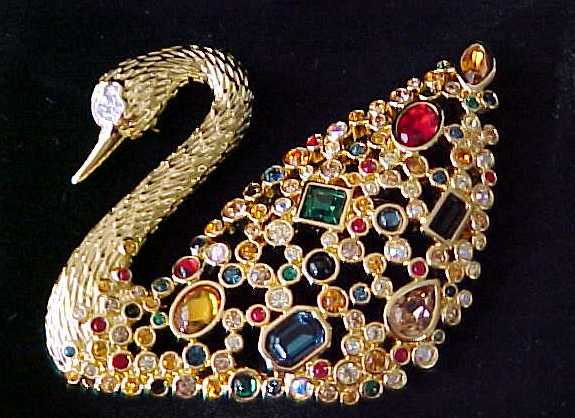 Joining CFC means that you can access our Fabulous Photo Galleries and all the pertinent info for a nominal fee, always available to you 24/7 with unlimited search functions. Find what you want quickly and easily.
No More Need for Costly and Outdated Annual Reference Books to document your Collection !
You can Join CFC and get all this and more for less than the price of a daily newspaper.


.
Comments from members?
Wow! I never dreamed it would be this beautiful!
This is really going to be FUN! I love the new message boards, much better!
If you wish to join the Crystal Fanatics Club, click the link below . As the Crystal Fanatics Club is a worldwide private members' club, the small joining fees are used to offset running the club site on a day to day basis and to further enhance the products and features it has to offer. If you collect Swarovski Crystal, then the Crystal Fanatics Club is THE place to be!
Click here to Join right now to start enjoying the benefits of membership right away. You'll be so glad you did!


Please note that the majority of links on this page are disabled. Once you gain entry to the secured area you will be able to visit all of the pages indicated by these links.
We WELCOME your participation!
CFC recommends Crystal Fox Gallery for all your collectible needs - visit Nancy now